I recently shared information on how to get started to build an email list. Since then I have had requests from readers to share some real results. As always I am very happy to do that.
The best part of this is that if you don't know how to do email marketing I am also new to this, so everything I share with you right now is what is happening currently on this website's email list! If you are new you can duplicate exactly. I have been sharing with you exactly what I have done.
If you haven't read the previous posts then I suggest you quickly catch up and read why email marketing is so important, what writing an eBook did for me and my latest post which shares how to get started with email marketing.
Build An Email List
So how this been working for me personally? So remember that this website is still quite new, it is now just short of 6 months old. Organic traffic is building up nicely and so is social traffic. (And yes I will be sharing soon on social network marketing very soon too). If you want to know about organic traffic you can read the basics here. I will be expanding on organic traffic soon too…
Anyway back to the topic of actually building the email list and how this is going for me. Here is a screenshot of my aWeber analytics for the last 30 days.
Just to explain what you are seeing here quickly, I signed up with aWeber on the 10th October 2015 and added a sign up form on my website side bar. It was nothing fancy and just said "Sign up here".
I then started researching how to get started with email marketing and the first snag I hit was that it is really hard to get subscribers unless you offer something of value. This is where writing my own eBook came in.
It took me over a month to write my eBook and get it exactly how I wanted it. It then took me a bit of time to figure out how I would give it away on my website.. turns out it can be as simple as adding it as an attachment to the first email in your follow up series.
Anyway, long story short I got 4 subscribers during the month where I had the boring sign up form with no free offer on my website. Look what happened when I added my free eBook!
I'm not sure I really need to say anything more on how this has worked for me right? I mean from 4 subscribers to over 60 in less than a month? Yes I know it is probably not the same as what all the online guru's swear you can do… like 150 000 subscribers in a month. But let's get real here, do you really still believe what they say? Nothing else has been real has it?
Well this is a real screenshot from my aWeber account over the last month. That graph makes me want to scream with excitement and dance around like a crazy person. How would you like that for your subscribers list?
The best part of that is that is not even the most thrilling part of what I am going to share with you today.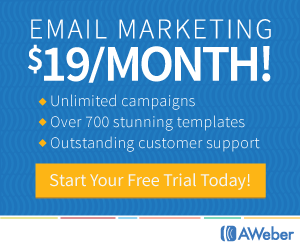 Email Analytics Tools
Here is where I am having the most fun now, checking out the email analytics tools!
I'm not sure if you have heard of A/B testing yet? Well I am busy with investigating how that works and I will be setting it up soon. It looks really exciting and I will share that with you as soon as I have something to show.
Let's look at sign up forms first
Below is a screenshot of the analytics for the different subscribe forms on this website. I have just taken out the name of the form and where it is on my website. What I want you to see is how different forms perform in different places.
So the top two sign up forms and the last one are within content on my website. Look how one post gets 22.6% subscribes. I am still quite new to email marketing but that looks great to me!
The third sign up form was an experiment I wanted to do, you see I wanted to check how well Clixsense works if at all. I did write a review on them from the side of making money online paying to click on  ads. I wanted to see whether they provide any value at all with getting visitors to your website or to get subcribers. I certainly didn't want to send 10 000 low quality visitors to my website so I made a sign up form, chose the option "hosted by aWeber" and paid $6 to Clicksense to send visitors there.
As you can see it has the lowest conversion rate of all! Yes I know the top one hasn't had any subscribers yet but I have only just added that form, even when I get one subscriber it will top that 0.2% conversion rate!
The second last form with 4906 displays and 35 subscribers is my sign up form which is in the side bar of my website.
So I have heard that just changing one word or tweaking one color can make an incredible difference in how people react to a sign up form. This is where the A/B testing comes in. I will share my findings with you early 2016.
Let's look next at the email series I set up and how well that is doing.
So if you read my post on getting started with email marketing you will understand what the email series is about. Here you can see in percentages how many messages reached their recipient, how many opens each message has had and how many clicks.
This is invaluable information and makes it so easy to tweak a headline, change some text or call to actions within these emails. It makes it easy to fine tune my email marketing campaigns and really target my messages so that I am sending out exactly what my readers want.
And now analytics for blog broadcasts
Once again if you are not familiar with what is meant by blog broadcast check out my previous post on getting started with email marketing.
This is also extremely useful. By examining which emails had the highest opens and clicks I can easily see which content my readers love the most and where I should be targeting my attention. This is what showed me how to write this post because my previous posts on email marketing were incredibly successful and I had a lot of readers contacting me because they were hungry for more.
That post was published on Friday and got a 57.45% open rate and a 21.28% click through rate which showed me my readers want to know more about email marketing.

There are loads more analytics and reporting options available within aWeber but I haven't had a chance to investigate everything yet, as soon as I do I will send that information out too.
What is the quality of traffic from email marketing?
This is another thrilling discovery! The results for my aWeber traffic was nothing short of astounding! Overall my bounce rate is 3.23$, with an average of 5.13 pages viewed and 4.29 minutes per session. This is the best traffic I have ever seen on any of my websites. I know exactly where I will be focusing a lot of energy in the next few months!
I hope you have found this information useful, let me know in the comments what you think!
Coming soon will be how to do A/B testing, the results I find which will include colors and power words… keep your eyes open for that!
Are you tired of scams or working online for pennies? Check out my #1 Recommendation!
Everything I have learned to do here has been through aWeber's training that they provide on their website. Not only are you provided with great tools for email marketing you are also given the training and support to learn how to make your email marketing campaign the best it can be!
Grab your FREE guide from aWeber